PhD Abstract

Dynamic Composition of Services: Application to the Design and Development of Information Systems in a Distributed Environment
The service oriented computing paradigm plays an increasingly important role in structuring complex systems. Application design and development approaches are witnessing a shift from traditional models towards a more dynamic service oriented model promoting reuse and adaptability. In this thesis, we study an approach for application design and development based on services' composition. We propose DyCoSe, an environment for sharing services. It consists of an enterprise ecosystem wherein members, organized in communities, share a global agreement describing traditional business functionalities and common non-functional properties. DyCoSe relies on a three level architecture for service based application composition combining both, a top down and a bottom up composition approach. The top down part describes an application using high-level components and refines it to an orchestration of services. The bottom up part projects network characteristics to the services' level. An instantiation process aiming at realizing an application is described. It formalizes services' selection as a cost optimization problem considering a set of user given constraints. Two solutions of the instantiation problem are proposed. A global solution considers all the available services in an ecosystem. A local solution gives priority to services of selected communities. A genetic algorithm implements the global instantiation. A stochastic simulation of DyCoSe is proposed. It allows studying the instantiation success rate and the application execution success rate both in a dynamic environment wherein services availability is not guaranteed.
Keywords:
Service oriented computing - Service composition - Service non-functional properties - Business process optimization - Instantiation - Service-based applications - Composite applications - Peer-to-peer.
Powered by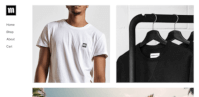 Create your own unique website with customizable templates.